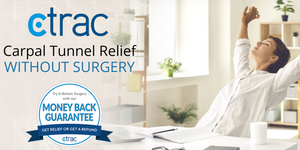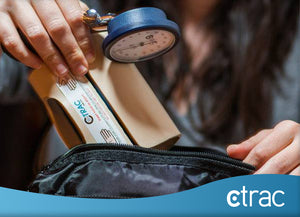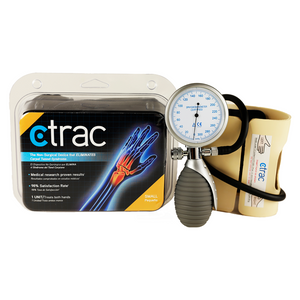 Stop Symptoms in Their Tracks
C-TRAC is the first pneumatic hand traction device developed for the treatment of Carpal Tunnel Syndrome. It is cleared by the FDA, and it works by delivering a controlled amount of stretching to the transverse carpal ligament which opens the carpal tunnel and reduces pressure to the median nerve.
This safe, non-invasive device is easy to use and treats mild, moderate, and severe forms of Carpal Tunnel Syndrome. Most patients find dramatic relief for the pain, tingling, numbness, and lack of sleep they experience due to Carpal Tunnel Syndrome within the first two weeks of use.
Faster Relief, Better Results
For many patients, surgery for Carpal Tunnel Syndrome pain seems like a reasonable, effective choice. But oftentimes surgery does not result in relief of symptoms caused by Carpal Tunnel Syndrome. Possible side effects of Carpal Tunnel surgery include risks associated with anesthesia, bleeding, infection, injury to the median nerve or nerves that branch out from it, injuries to nearby blood vessels, and the formation of sensitive scar tissue.
A user survey showed that C-TRAC has helped 75% of users avoid surgery. This alternative treatment has even decreased symptoms in patients that failed other types of conservative therapy. Multiple research studies by Dr. B. Sucher have proved that stretching the transverse carpal ligament is a highly effective treatment for Carpal Tunnel Syndrome, and C-TRAC has helped many users start to feel better in as little as two to four days. Please note that C-TRAC is not indicated for use by patients that have already undergone Carpal Tunnel Syndrome surgery.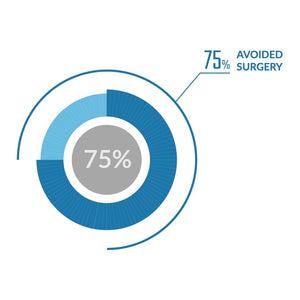 How To Use C-TRAC
Simply place your hand inside the sleeve, inflate the cuff (bladder) for two minutes, deflate it and rest for a minute. Then re-inflate the cuff for another two minutes, deflate it, and remove it. You can use it on either hand by "flipping" the C-TRAC.
Apply the device for up to five minutes, three times a day, for 4-6 weeks. Using C-TRAC will help decrease symptoms of even the most severe cases of Carpal Tunnel Syndrome. Dr. Humberto Porrata, co-creator of the C-TRAC device, explains more in this instructional video.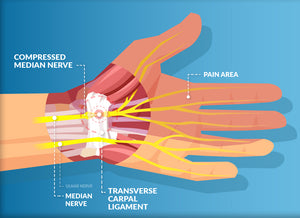 Further Research
As you can see in this diagram, Carpal Tunnel Syndrome occurs when the transverse carpal ligament presses on the median nerve. This causes pain, numbness, and tingling to radiate from the wrist to the thumb and first few fingers.
C-TRAC works by stretching this ligament, and extensive research has shown this as an excellent treatment to relieve symptoms. Read more about the results of the Journal of Hand Therapy Study published in 2009 where C-TRAC was put to the test.
Study Summary

Choose Your Size
C-TRAC is available in three different sizes: small, medium and large. To determine your size, you will need to measure the palm of your hand (not including your thumb). Once you determine the width of your palm, follow our sizing chart below to find the size that will fit best.
Small: Approximately 3 Inches
Medium: Between 3-4 Inches
Large: Between 4-5 Inches
No prescription is required to obtain the C-TRAC device. Order today to get lasting relief from Carpel Tunnel Syndrome.